80 Years Since the Babyn Yar Tragedy


Coin edges: corrugated
Nominal: 5 uah
Circulation start date: 27.09.2021
Material: german silver
Description:
This coin commemorates 80 years since the tragedy that occurred in the Babyn Yar area in Kyiv during World War II. From September 1941 until the end of September 1943, regular mass shootings and burials took place there. The Babyn Yar area is the grave site of over 100,000 people. The victims of the Nazis were mostly Jews, but also Gypsies, Ukrainians and other nationalities.
Obverse: to the right is Ukraine's small coat of arms, under which is the angled legend УКРАЇНА (Ukraine); to the left is the angled face value 5 ГРИВЕНЬ (5 hryvnias); in the center, against the background of concentric circles that resemble a target and a fragment of a topographic image of the Babyn Yar area that resembles blood splashes, is the following stylized composition: a heart with a bullet hole in it; there are the following legends: БАБИН ЯР 1941 (Babyn Yar 1941) (semicircular, above) and the coin's issue year – 2021 (below); above, to the left is the mint mark of the NBU's Banknote Printing and Minting Works.
Reverse: there is the following composition depicting the Babyn Yar tragedy: anthropomorphic figures that appear to be lying underground and that symbolize families who have been shot dead. Above is the following legend: 80-ТІ РОКОВИНИ/ТРАГЕДІЇ В БАБИНОМУ ЯРУ (80 years since the Babyn Yar tragedy).
Painter: Volodymyr Taran, Oleksandr Kharuk, Serhii Kharuk
Sculptor: Engravers – Volodymyr Demianenko, Volodymyr Atamanchuk. Computer-aided design by Yurii Lukianov
Coins in circulation (planned/actual): 20000/20000
Mass, g: 16.54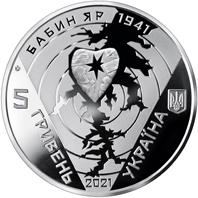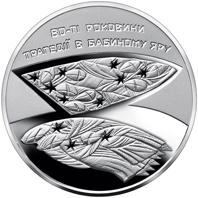 Diameter, mm.: 35
Quality: special uncirculated